Jack Doohan in the footsteps
of his Father
Mick Doohan, is not only five times crown world champion in the category of the 500cc motorcycle consecutively, won between 1994 and 1998.
Indeed, with a total of 137 Starts, 54 Wins, 95 Podiums, 58 Poles, 46 F. laps and 2283 Points, Mick has some impressive record.
Today, it is his son Jack, who seems to be taking over and the success is already flowing in his veins.
After winning the Junior Australian Kart Championship for the last 3 years, 14 years old Jack secures his first podium. Indeed, finishing second at the OK-Junior Pre-finale B in Italy on the 5th of February.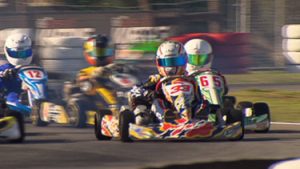 All of the Bike Torque team hope that Jack will follow the successes of his father, Mick. We wish Jack many more victories.
Meanwhile, you will see Mick Doohan in the series TV Bike Torque soon. Watch the teaser now